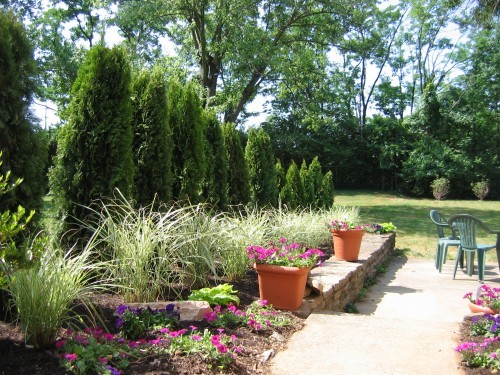 Questions to Ask When Choosing an Outdoor Living Specialist
Do they have a photo gallery of completed projects?
A picture is worth a thousand words! Experienced Outdoor Living Specialists should be able to provide you with photos of their completed projects. Plenty of photos usually mean lots of experience. View photos of our Patios, Fire Pits/Fireplaces, Walls, Walkways, Lighting, Outdoor Kitchens etc from various clients in Milford, Loveland and surrounding areas in Cincinnati.
Can they provide letters of reference from satisfied clients?
When a customer takes time out of their day to write a letter of recommendation, they obviously were very satisfied with the service provided. Always ask for references.
Read some of our client testimonials.
How long has the company been in business?
Warren's Landscaping has been in business since 1999 in Cincinnati, providing unique designs, using certified installation techniques with exceptional customer service.
What kind of experience, training and education does the company and its team have?
For example, designers should have a background in design; patio and driveway installers should have the appropriate pavement installer certifications. The entire team should have as much experience as possible, particularly in the area you're considering to use them.
What industry certifications do they have?
There are many educational and training programs that lead to professional certifications in the landscaping industry. Always ensure that the company has invested in the certification of their team with certified installers.
Are they a member in good standing of the Better Business Bureau (BBB)?
If they're a member of the BBB, check the BBB web site to see if they've had any complaints filed against them. If they're not a member of the BBB, it'll be harder to determine if they've had complaints in the past.
Do they carry the proper insurance?
Ask for proof of insurance before any work is started. You will want to make sure that if any damage occurs during installation - to property or to people - it is covered.
Have they received awards or commendations?
Awards and recognitions are usually given by landscaping industry experts or peers. This is a great way to prove the ability of the firm you\'re considering. View our accolades from clients we have worked for in Loveland, Milford and the Greater Cincinnati area.
Will your crews clean up after the project is complete?
Landscaping work can be messy. It involves bringing in sand, dirt, mulch and other materials. The heavy equipment can also leave tire marks on your lawn. Good landscapers will bring your property back to its original state when they are finished.
If you have other questions before you begin your next landscaping project, contact Warren\'s Landscaping. We look forward to helping you!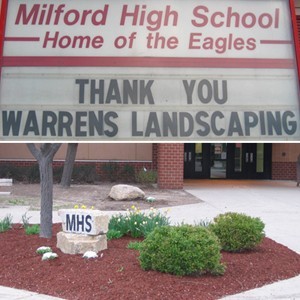 Accolades and Credentials
Feel confident when you entrust your residential landscaping or commercial landscaping project to Warren\'s Landscaping!
Awards: Entrepreneur of the Year Awarded by Milford-Miami Chamber of Commerce 2001, Angie\'s List Super Service Award 2010,2014,2014. Extraordinary Growth Award 2010 awarded by ReadingRock.
What are people saying about Warren\'s Landscaping?
"Matt and his crew did a great job with the landscaping around the deck and gazebo. I had one vision and when Matt came to give me a quote he took his years of experience and gave me a better one." -Cincinnati
Warren\'s Landscaping offers your home and business:
Complete lawn care and maintenance
Custom landscaping designs
Creative hardscapes
...and more!
Giving Back
Warren's landscaping is a proud supporter of the following: