Landscape Lighting
What good is landscaping if you can\'t see it?
Outdoor lighting can be a simple and inexpensive way to add the perfect finishing touch to your outdoor landscaping design while increasing the value of your home and land. Also proven as deterrents to would-be intruders or vandals.  
LED is the new "thing" in landscape lighting.
Go green and use 75% less energy using LED lighting. LED has a better visual quality of light output... basically the color of your plants will be more colorful.
Bubbling Boulders
Watch new birds coming to bath themselves and enjoy the flowing water cascading out of a hole drilled in the boulder or fountainscape of your choice.
Flowing water is soothing and relaxing, and it renews our vital link with nature allowing us to "recharge" ourselves to take on what's ahead.
We pride ourselves on the way we artistically place each boulder and group certain rock color variations to create the most natural looking "real life" waterscapes possible.
Once completed you will wonder how you went without the sight and sound with your new waterscape creation.
Retaining Walls
Would you like to turn a hill side into usable yard space? We can help! Warren's Landscaping of Milford-Loveland can design and build a quality and affordable retaining wall that will bring beautiful dimensions to your outdoor living space. Most importantly we are certified to install retaining walls that will last! 
We use all types of materials to achieve the goals and specific needs of our customers. Most commonly we use Alan Block for Engineered walls which gravity-stacked and assembled similar to a puzzle. Natural flat rock and round decorative boulders can also be used to accent a garden path or retain a small hillside.
Water Features
Over the recent years backyard water features have become more popular than ever.
In today's fast paced, high stress, get it done yesterday lifestyle, more people than ever are looking to their backyards to bring them tranquility and peace. Whether you enjoy attracting and observing playful birds or sitting alone in peaceful serenity. Flowing water renews our vital link with nature and allows us to recharge ourselves. A water feature can be installed to fit about any outdoor living space. We pride ourselves on the way we artistically place each boulder to create the most natural looking "real life" waterscapes possible.  Warren's landscaping can design just about anything imaginable for your outdoor pleasure.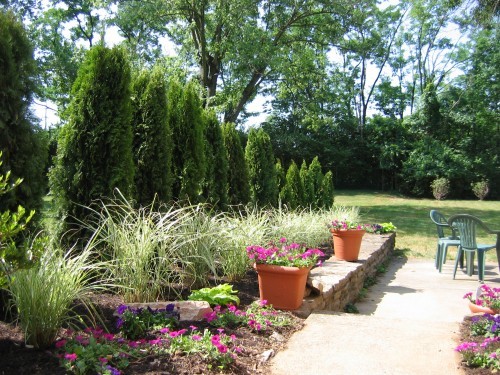 Landscaping
The professional landscape architects and designers at Warren\'s Landscaping provide creative solutions for residential landscaping and commercial landscaping throughout Cincinnati, assisting you so all the elements of your landscape design project merge into one complete thought.
With implementation under direction of your designer, our crews will bring the vision to reality.
Patios/Walkways
Paver patios help connect your retaining wall and outdoor living space to your exterior landscaping designs in a fluid and innovative way.
Warren's Landscaping offers Cincinnati residents an expansive collection of affordable stone and rock to create your ideal patio. Paver patios provide unlimited possibilities in design ideas, and can create the perfect space for the outdoor living space and kitchen you have always wanted. Let Warren's certified professionals create your new paver patio today.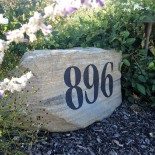 Stone Engraving
Rock engraving can offer a personal touch to any garden or landscape design. Engraved stones include welcome stones, house markers, house addresses, engraved names and images or a combination of all.
Warren's Landscaping can provide you with a beautiful accent piece to express your personal style and design ideas for your Cincinnati home and outdoor living space.
Outdoor Living Spaces
If you have a beautiful backyard, why stay cooped up inside? The certified professionals of Warren's Landscaping can create a stunning outside oasis that suits your personal style. Your outdoor living space can include natural stone walls, paver patios, paver walkways, stepping stones or an outdoor kitchen and fire pit. Adding your own floral arrangements and shrubs can enhance our quality landscaping and craftsmanship.
Warren's services can create an outdoor living space that feels like an extension of your own home and a place that you can feel proud of.
Stone Walkways
Warren's Landscaping is experienced in building a stone pathway that can add a 'country' feel to a lawn or complement a more formal landscape design for your Cincinnati home or business. Stone walkways encourage guests to explore, and can direct them to points of interest in your garden design. Choose from a wide selection of natural stone and rocks to create a walkway that complements your outdoor living space. Warren's can create interest as well as functionality to your lawn and garden with an affordable stone walkway today.
Gravel Driveways
Gravel driveways are a cost and maintenance efficient alternative to paved driveways. There is no need for repair considering there are no paved surfaces to break. They can stand up well to intermittent hot and cold weather without damage.
An affordable gravel driveway from Warren's landscaping can give your landscape design an aesthetically pleasing appeal with minimal expenses. Warren's experienced and certified professionals can create an affordable driveway to complement any style of home.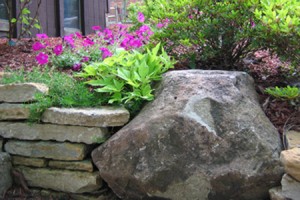 Boulders & Stone
Landscaping boulders and stones can add interest, impact and character to your landscape. Warren's experienced designers and architects can make an accent boulder look natural and effortless in your landscape design. Landscaping with boulders will give you the opportunity to add distinct levels in your garden in order to create interesting focal points.
Warren's Landscaping can provide boulders and stones of various colors and textures to complement your existing design or, perhaps inspire your future designs.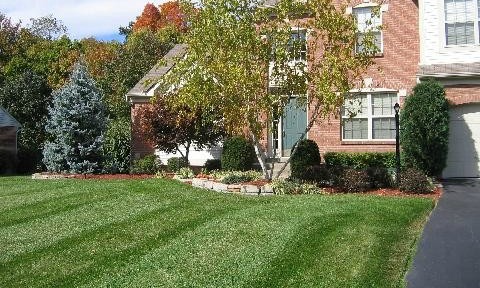 Aeration
Keep your lawn healthy by Aerating.
What can Core Aeration do for Your Lawn....
Stimulates Root Growth
Enhances Water Uptake
Reduces Compaction
Improves Oxygen content
Enhances Thatch Control
Improved Fertilizer Uptake
Lawn Mowing
We offer mowing services for residential and commercial properties. Our knowledgeable staff understands the importance of keeping up with the lawn during the spring rains and knowing when to skip cuttings in the dry summer months.
Mulch
Warrens Landscaping offers complete mulching services - everything from residential to commercial.
Snow Removal
In addition to our full landscaping services, Warren's Landscaping also provides snow removal during winter months
Trenching
Warrens Landscaping offers trenching services in addition to all of the other landscaping services